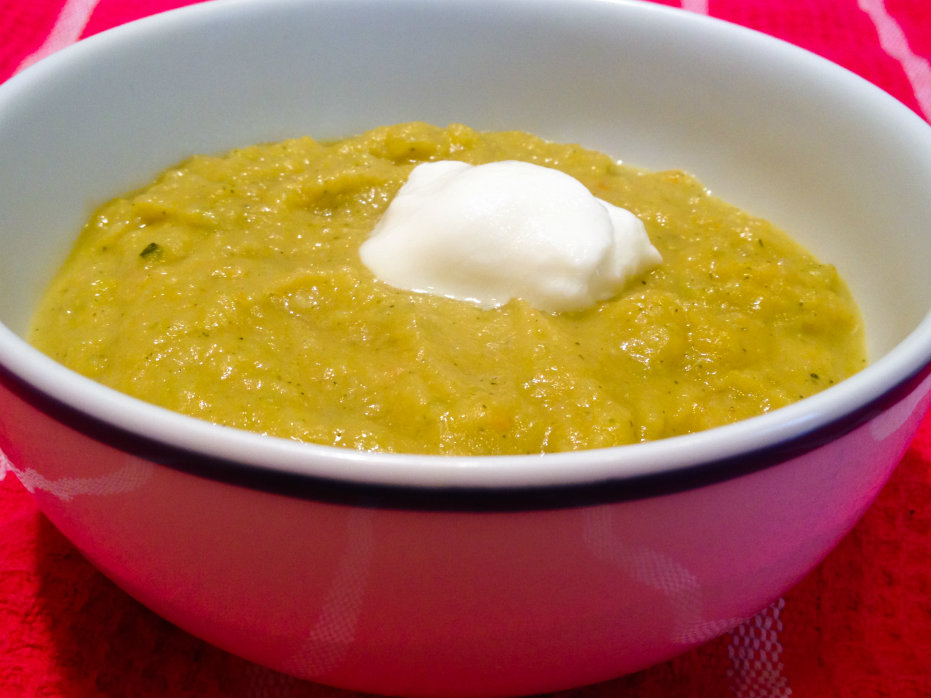 I'm coming in, just under the wire, with a soup recipe to round out January as National Soup Month! It's creamy, it's Paleo, it's as frugal as can be: Broccoli Stalk Soup!
I seriously buy about ten pounds of broccoli a week, and I'm ashamed to admit how many stalks have gone to waste over the years. My girls didn't want to eat the tougher stalk and will only eat the florets, and to be honest, they do take a little more work to prepare if you want to serve the stalk together with the floret, since you have to peel off the tough outer layer. But I couldn't accept throwing all those healthy green vegetables into the compost bin, so I made a broccoli soup out of them. Hooray – it is delicious and uses up nearly all the stalk. So much less to compost!
If you don't follow the Paleo diet, feel free to use one large or two small potatoes in place of the rutabaga. But I really liked the rutabaga – I think it adds a sweetness, and contributes a creamy texture to the soup when you blend it. And because you are blending it up, you don't have to worry about mincing and dicing carefully – just chop up your veggies and cook them til tender. You can serve this with some shredded cheese on top, or like I did, with a dollop of plain yogurt. You can also add a little more chicken stock than I did if you want a thinner soup. But I like it this way: thick, warm, and truly satisfying!
Broccoli Stalk Soup
3 tablespoons olive oil or bacon fat

1 large rutabaga, peeled and cubed

3 cloves garlic, minced

1 onion, sliced

2 carrots, peeled and chopped

6 broccoli stalks, plus one head of broccoli

4 cups (or more) chicken or vegetable stock
In a very large pot, heat the oil and add the rutabaga, garlic, onion and carrots. Cook on medium, stirring to keep the garlic from burning, for about ten minutes.

While the other vegetables are cooking, prepare the broccoli. With a paring knife or vegetable peeler, peel the broccoli stalks. Cut off the bottom half inch of stalk, and then cut the stalks into smaller pieces. Chop the head of broccoli and separate the florets. Add the broccoli to the pot and cook another five minutes.

Add the chicken stock and cover the pot with a lid. Simmer over medium-low heat for about 20 minutes, or until the vegetables are tender. Transfer soup to a blender – CAREFULLY! – in batches and blend until mostly smooth. You can leave a few chunks if you like. I used an immersion blender and it worked very well. You can add a little more stock here if you want a thinner soup.

Serve soup hot, garnished with grated cheese or yogurt.