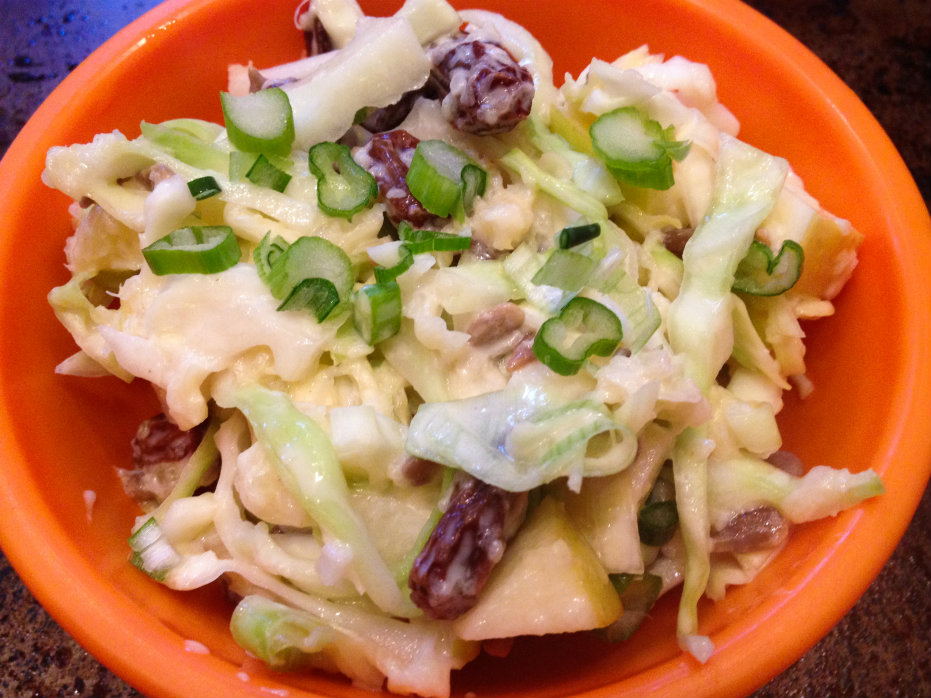 Don't let the monochromatic appearance fool you – this salad packs a tasty punch! Winter veggies come together with fruit, nuts, and a light yogurt dressing in this recipe for Cabbage and Pineapple Slaw.
Cabbage is not a glamorous vegetable. In fact you can probably buy a giant head of it today for less than a dollar. Nutritionally it's a powerhouse, though, and you probably could stand to eat more of what it's offering! Sliced very fine (or grated if you prefer), it's a perfect foil for crunchy apples, chewy raisins, and whatever nuts you like. I used sunflower seeds, but try almonds, hazelnuts, pecans or walnuts. I think walnuts would make it taste even more like a healthier version of Waldorf Salad (a childhood favorite of mine.) The star of the show, and what lifts this recipe above other coleslaws, is pineapple. Fresh pineapple, minced, would be glorious, but I used a half a can of crushed pineapple and it was delicious. Save the rest of the pineapple for smoothies, or to dress up cottage cheese.
Since we're still knee-deep in winter, and Soup Month is going strong, try this salad paired with a spicy soup. I think it would be great with Chinese Hot and Sour Soup, or any chili recipe, to quell the heat. Let me know how you like it!
Cabbage and Pineapple Slaw
1/2 head green cabbage, sliced very fine or grated

1 small apple, diced

1 green onion, minced

about 1 cup crushed or minced pineapple

1/2 cup raisins or other dried fruit (cranberries or cherries would be yummy!)

1/2 cup nuts or sunflower seeds

1 heaping tablespoon mayonnaise

2 heaping tablespoons plain yogurt

juice of 1 lemon

juice of 1 clementine orange

1/4 teaspoon salt, or to taste
Directions:
In a very large mixing bowl (or a very large Tupperware container with a lid, my preferred method), mix together the cabbage, apple, onion, pineapple, raisins, and nuts.

In a small container with a lid, shake together the mayo, yogurt, lemon and orange juices, and salt. Taste to see if you want any more salt or lemon.

Pour dressing over cabbage mixture and shake or toss to combine. Refrigerate until ready to serve.