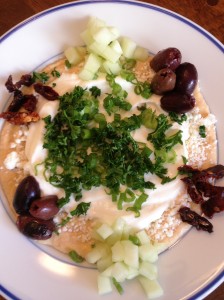 This month I am focusing on side dishes and things you can bring to your Thanksgiving table. When my family gets together, we all commit to bringing a piece of the dinner puzzle: whichever family member is hosting usually makes the main dish, and the other family members decide on who is going to make dessert, salad, vegetable, and appetizer. My sister brought an appetizer called Layered Greek Dip – and I was hooked!
This dish is easy to put together and is healthy to boot! Assemble it right before your guests come, or make ahead and covered in the fridge until you are ready to serve. Offer a variety of dippers: I like pita chips, tortilla chips, Triscuits (my favorite cracker of all time!) and veggies like carrot sticks and red pepper slices. This will take the edge off people's hunger long enough for you to finish up your last-minute dinner duties. Offer some white wine with this appetizer and your guests may forget all about the main course!
I should have taken a photo of my sister's dish when she made it, but it slipped my mind, and before I remembered, we had all smeared it all over the plate and eaten half of it! I made it again this morning, so the photo is of a "personal-sized" serving. And you know what? It makes a yummy, unusual breakfast too! I used sundried tomatoes because I didn't have any cherry tomatoes (and I don't care for them anyway.) Try it and let me know if you love it like I do!
Layered Greek Dip
8 ounce container of hummus (or make your own!)

4 ounces crumbled Feta cheese

6 ounce container of plain Greek yogurt

1 small cucumber, peeled, seeded and chopped

4 ounces cherry tomatoes, cut in half

4 ounces Kalamata olives (or other black olives)

2 green onions, diced

handful of parsley, minced
On a large plate, spread out the hummus. Cover with a layer of Feta, then cover that with the Greek yogurt. Arrange the cucumber, tomatoes, and olives over the top in any way you find aesthetically pleasing. Sprinkle with green onion and parsley. Serve with chips or veggie sticks. Keep refrigerated until ready to eat.