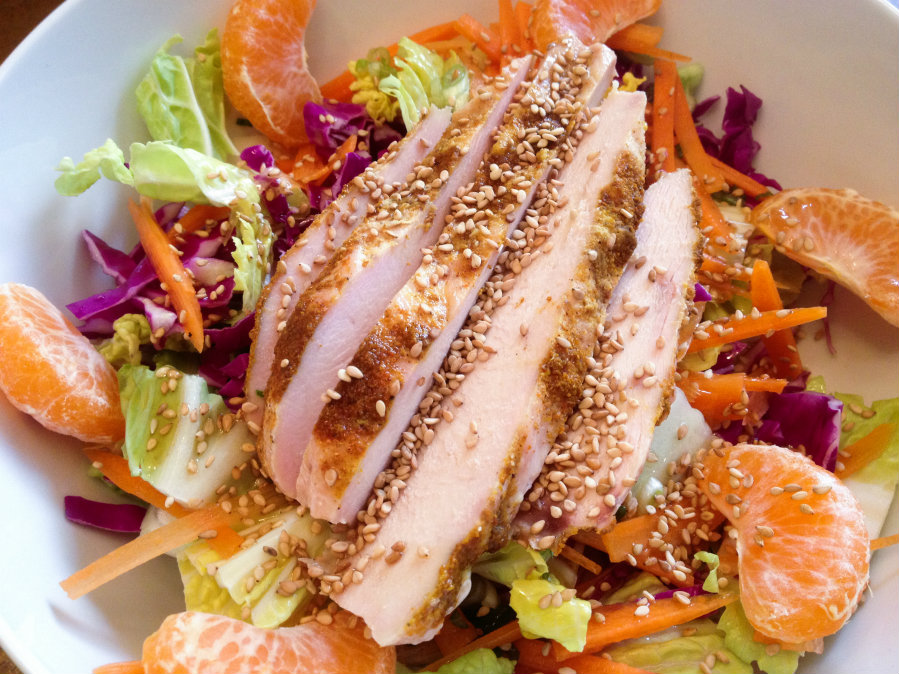 Did you know that January is National Soup Month? Sounds perfect to me - a big bowl of soup and a salad makes one of the best lunches imaginable. One of my favorite salads is Chinese Chicken Salad!
This is perfect for winter, because all of the ingredients are in season now. Instead of canned mandarin oranges, you can probably find fresh ones now – I've got Clementines and Satsumas left and right at my grocery store. Red cabbage and carrots are always around, as are green onions. For the base, I used Napa cabbage, but if you don't have that, you can use any kind of lettuce you like, or really finely chopped green cabbage. I cooked some extra chicken breasts last night so I could chop them up cold and throw them over the salad, but you can use whatever chicken you like – roasted, store-bought rotisserie, or even breaded chicken nuggets!
This recipe serves two as part of a lunch or dinner menu. Try this salad with any soup you like, or paired up with a sandwich, wrap, or pasta dish. Filling, nutritious and delicious – and it won't break any of your New Year's resolutions!
1 small head Napa cabbage, or romaine lettuce

1/2 head small red cabbage

2 carrots

2 or 3 green onions

2 mandarin oranges

2 cooked chicken breasts, or 3 cups chopped cooked chicken

2 tablespoons sesame oil

2 tablespoons rice vinegar

1 tablespoon sesame seeds

salt and pepper to taste
Chop the Napa cabbage into inch-wide strips. Finely slice the red cabbage. Place both in a salad spinner and rinse under cold water, then spin dry.

Cut the carrots into matchsticks. Finely slice the green onions. Peel the oranges and remove as much of the white pith as possible. Separate into segments. Dice or thinly slice the chicken breasts.

To assemble: In two very large bowls, mix together the cabbages, carrots, and onions. Arrange the oranges and chicken breasts on top. Drizzle each salad with one tablespoon each of sesame oil and rice vinegar, and sprinkle the sesame seeds, salt, and pepper on top.