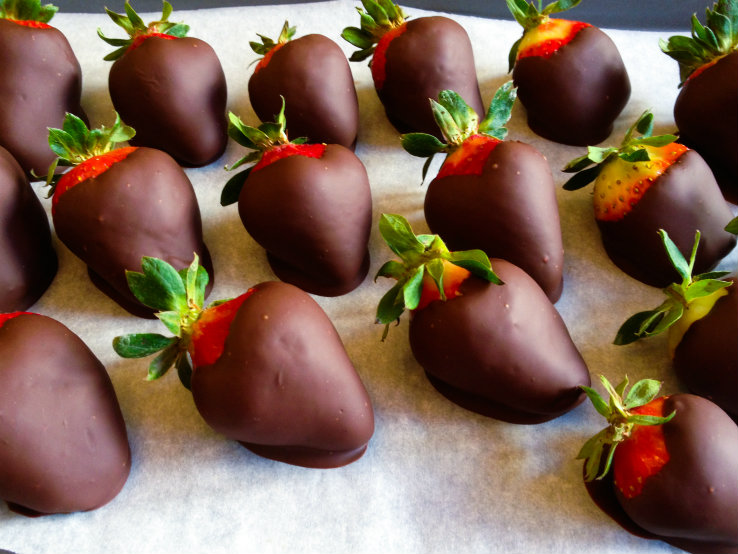 Nothing says Valentine's Day like Chocolate-Covered Strawberries! Surprise your sweetie – or sweeties, because my kids went cuckoo for these! If you can get your hands on some nice strawberries (and I know it's still very much winter in some places, but go with me on this), you can make these for dessert and watch their eyes light up!
My trick here is to use a teaspoon of coconut oil in the chocolate. It keeps the chocolate from becoming brittle and adds the lightest hint of tropical flavor. Instead of shattering when you bite into it, this chocolate holds tight to the strawberry so you can eat every last bite. No worries if you don't have coconut oil. You can go without and just use the chocolate, but you will definitely want to make sure your berries are blemish-free and thoroughly dried.
Ready to make your loved ones' hearts go pitter-pat? Bring out these healthy and gorgeous treats tonight!
Chocolate-Covered Strawberries
18 strawberries

1 cup semisweet chocolate chips

1 teaspoon coconut oil
Directions:
Wash the strawberries and dry very carefully. Pull up the stem leaves so they point up; otherwise you'll get them covered in chocolate! Make sure you don't have any open, weepy spots on the berries, or the chocolate won't stick.

In a small but deep bowl, microwave the chocolate chips and coconut oil for 30 seconds at a time, and stir after each 30 seconds. It took three 30-second bursts to get everything melted and smooth.

Line a baking sheet or tray with parchment paper. Holding onto the stem of the berry, dip in chocolate and place on the parchment paper. When all berries are dipped, place the tray in the fridge (or freezer if you are short on time!) Serve cold.
I had a little leftover chocolate in my bowl. I dipped cashews and banana pieces in there to get every last drop. My 2 year-old's chocolate mustache was a sight to behold!