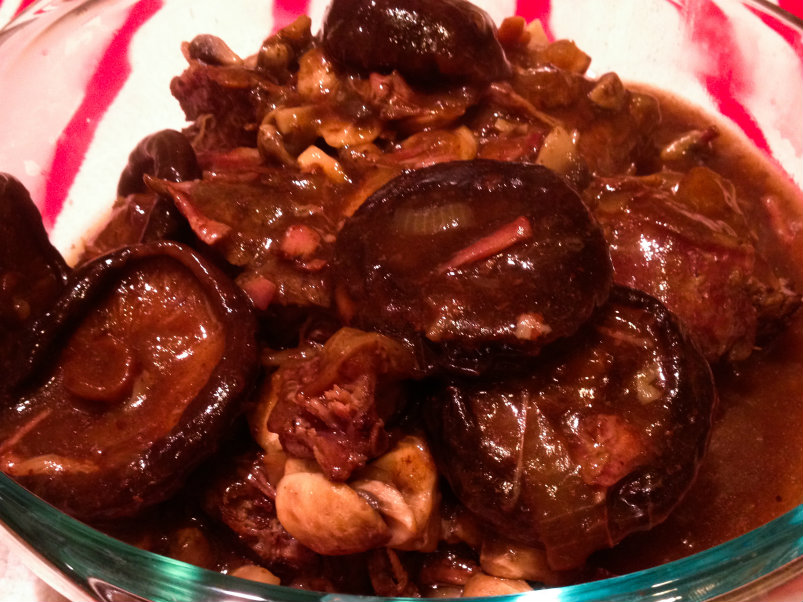 I feel like I should apologize for the photo. It's very…brown. There's really no good way to photograph this recipe. It's not glamorous. But it is the easiest and most delicious thing that has ever come out of my Crock Pot! I present to you: Double Mushroom Pot Roast!
The secret ingredient is dried mushrooms. I use dried shiitake mushrooms, because they're cheap and plentiful at my Korean market. You can try this with whatever dried mushrooms you can find. I use a big handful, about 6 or 7 big mushrooms. For the second dose of mushrooms, regular button mushrooms or creminis will do the trick. Use whatever large beef roast you like. Chuck roast is always a favorite, and for this one, I used something called a "seven bone roast" that was also flavorful.
If you want your house to smell amazing when you walk in the door after work or errands, make this in the morning and revel at how easy and delicious it is that night.
Double Mushroom Pot Roast (Crock Pot)
1 large beef roast, preferably chuck, about 3 pounds

1 onion, sliced

handful of dried mushrooms

8 ounces fresh button or cremini mushrooms, sliced

2 tablespoons cornstarch

salt and pepper
In a very large Crock Pot, drop in the sliced onions and dried mushrooms. Set to LOW and the timer for 8-10 hours.

In a large pan, brown the roast on each side. When browned, place on top of mushrooms and onion, season with salt and pepper, and cover.

After 8 hours, remove the roast from the Crock Pot to a large serving platter or bowl. In a large pan, cook the button (or cremini) mushrooms and spoon a bit of the juice from the Crock Pot over them to keep them from sticking.

When the mushrooms are done, pour them over the roast. In the same pan, pour in the contents of the Crock Pot – the juice, onions and mushrooms. Cook for 5 minutes on medium to reduce a bit.

Mix the cornstarch with 1/4 cup of water and mix to blend. Pour this mixture into the pan and stir into the onion mixture. Stir frequently to prevent the gravy from sticking to the pan. When thickened, about 5 to 10 minutes, pour over the roast and serve. Season heavily with salt and pepper.