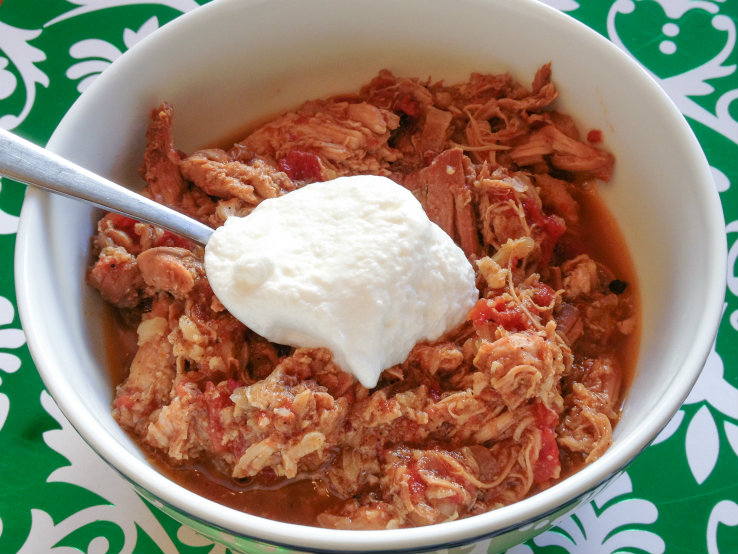 This past weekend, I invited my best friend and her family up to our house for dinner. Instead of trying to make a meatloaf large enough to feed eight people, I decided to use my two crockpots to save time and effort in my prep. In the one, a mushroom pot roast. In the other, I made a lightly curried pot of chicken thighs. I wasn't sure if my friends' kids would like it – they're eight and ten years old, and I didn't know if it would be a hit. Ten year-old Zoe took one bite and her face lit up. "Mama," she excitedly told my friend, "you have to ask Dana for this recipe so you can make it at home!" I have to tell you, I've never been so proud of a recipe in all my life! This, then, will be called Zoe's Crockpot Chicken.
You can use one or two pounds of boneless, skinless chicken thighs. If you use one pound, you'll have more sauce, and will probably want to serve this over rice or noodles. If you use two pounds, like I did this time, it's a thicker stew and doesn't need anything under it – but jasmine rice would certainly be delicious. Use any store-bought curry powder you like. I have two, and the one I used this time was just a $4 jar from Trader Joe's – nothing fancy. I also used half a head of cauliflower, diced. It doesn't add much to the flavor, but it adds nutrition and body to the sauce. I like to garnish with a big dollop of plain yogurt, and if you have cilantro, sprinkle some of that on top. If you need a quick chicken dish that promises to please grown-ups and kids alike, check this one out.
Zoe's Crockpot Chicken
1 large onion, sliced fine

1 or 2 pounds chicken thighs

2 tablespoons curry powder

1/2 teaspoon salt

15 ounce can of diced tomatoes (I like fire-roasted)

plain yogurt and cilantro to garnish, optional

rice or noodles, optional
Place the sliced onions on the bottom of the crock pot. Layer the chicken thighs on top. Season well with curry powder and salt. Open the can of tomatoes and dump on top.

Cover and cook on high for 4 hours or low for 6 hours. When ready to serve, shred the chicken with a fork and mix all the ingredients. Serve on top of optional rice, garnish with optional yogurt and cilantro, and enjoy!