If you've ever paid $2 for a biscotti at your local coffee shop and thought, "It can't be that hard to make these," you are right! This recipe for Chocolate Cranberry Quinoa Biscotti takes a few extra steps, but if you are looking for a gluten-free, nut-free treat for your afternoon coffee break, read on!
I was looking for nut-free biscotti recipes online, and I found one using quinoa flour, which I'd never heard of or used. Time to experiment! It turns out that quinoa flour is incredibly easy to make, and exceeds wheat flour in fiber, protein, and nutrients. If you don't want to make your own at home, I understand – you can find it in health food stores and online, and Bob's Red Mill makes it (I really like and trust their products.) I used red quinoa, so the biscotti has a darker color, but feel free to use the regular white kind. To make quinoa flour at home, pour one cup of quinoa on a baking sheet and bake for 12-15 minutes at 300*F. When cool, grind in a spice grinder, grain mill, or superpowerful blender. I have a hand-crank grain mill that made short work of the job! One cup of dry quinoa will yield one and a quarter to one and a third cups of flour. If you don't want to go through the trouble, you can use regular or whole wheat flour instead.
Everything else in this recipe is pretty customizable. Don't like chocolate chips? Leave them out or use white chocolate or even butterscotch chips. Add in any kind of nut, like almonds, pecans or pistachios. Replace the dried cranberries with cherries, apricots, or just lemon zest. Drizzle with white or dark chocolate. These make great gifts, too, because they are pretty hearty and don't get stale too quickly. After rigorous and exhaustive testing, I can report that these stand up well to dunking in coffee. The things I do for you people!
If you have a friend who loves coffee, give these as a gift (and keep a few for yourself!)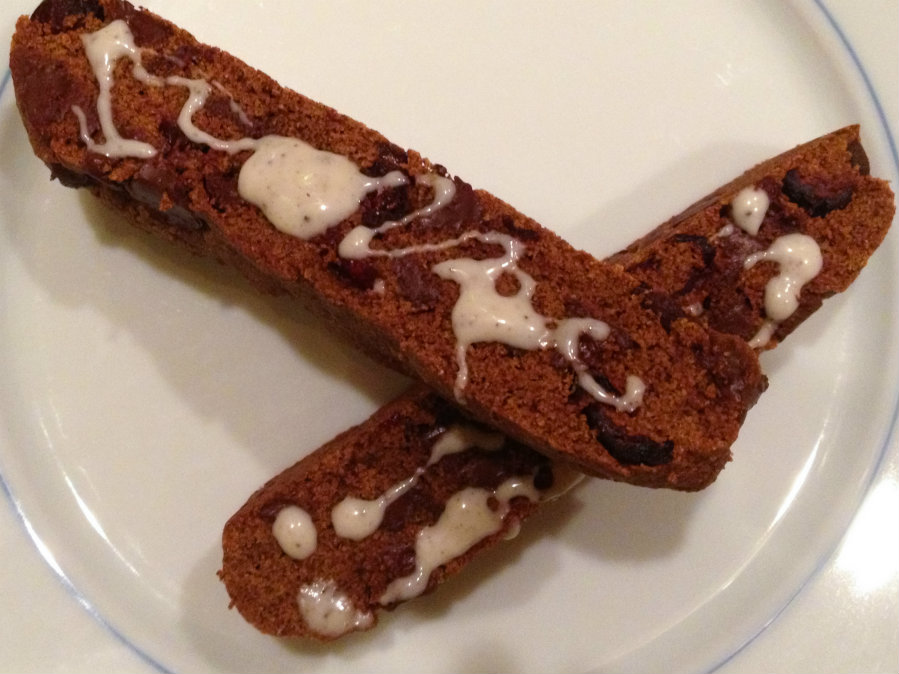 Chocolate Cranberry Quinoa Biscotti
1+ 1/3 cups quinoa flour (you can use whole wheat flour instead)

2 tablespoons coconut flour

1 teaspoon baking powder

1/4 teaspoon salt

2 eggs

1/4 cup melted coconut oil (or use butter)

2 teaspoons vanilla extract

3/4 cup coconut sugar (or use brown sugar)

3/4 cup dried cranberries (or cherries or diced apricots)

3/4 cup chocolate chips

White chocolate for drizzling (Confession: I was out of white chocolate, but I found a cookies and cream white chocolate bar that fit the bill.)
Directions:
Preheat oven to 300*F. Line a baking sheet with parchment paper.

Combine quinoa flour, coconut flour, baking powder, and salt in a bowl.

In a large bowl, combine the eggs, coconut oil, vanilla, and coconut sugar together. Mix well, then stir in chocolate chips and cranberries. Stir in the flour mixture a little at a time until thoroughly combined.

Turn the dough out onto the parchment, and using damp hands, mold into a log that measures about 4 or 5 inches wide, one inch high, and about 15 inches long. Bake until firm, about 25 minutes.

Remove pan from oven, then pick up the parchment with the biscotti log on it, and let it cool on a rack. You want this cooled to room temperature, so it won't crumble too much. With a serrated knife, slice the log into 1/2 inch biscotti.

Place the biscotti back on the baking sheet and bake for about 15 minutes until dry and crunchy. Let cool completely, then drizzle with white chocolate. Store in an airtight container to keep them crisp.