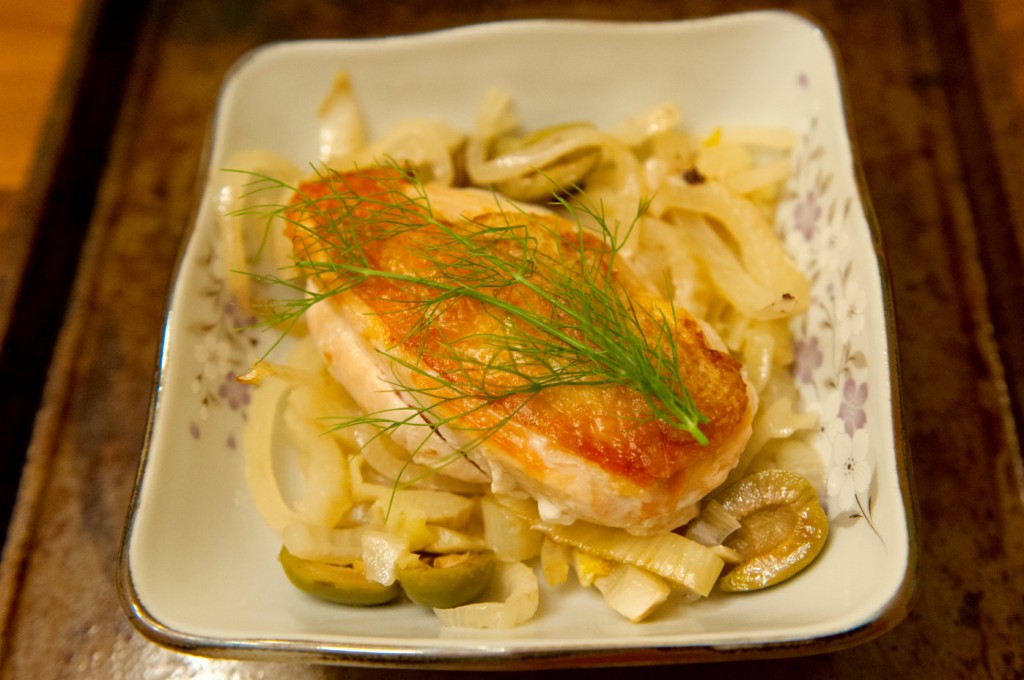 I hope everyone had a lovely Thanksgiving! If you have leftovers, by all means, eat those first. Once you finish off your turkey, ham, or whatever else you had, try this recipe for Chicken with Fennel and Olives.
Fennel is in season now and has a delicious anise flavor. When you are shopping for the olives, buy the biggest green olives in a jar you can find – sometimes they're called Queen olives – and make sure they're pitted. You can find them plain, but I used a jar of large green olives stuffed with cloves of garlic. Amazing! You can also find them stuffed with almonds (but for this recipe, I would avoid the ones stuffed with blue cheese or hot peppers!) This recipe also calls for a cup of white wine. Use a chardonnay, sauvignon blanc, or pinot grigio – these are dry white wines that will pair perfectly with the chicken. If you prefer, you can substitute chicken broth.
This is a healthy, light recipe that will warm your house and keep you from feeling like a slug after all the Thanksgiving feasting is over. (But feel free to have that last piece of pie for dessert!)
Chicken with Fennel and Olives
1 whole chicken, or a package of skin-on chicken thighs, or skin-on chicken breasts

2 tablespoons olive oil or bacon fat for cooking

1 large fennel bulb

1 large onion

1 jar large green pitted olives

1 cup dry white wine (or substitute chicken broth)

salt and pepper to taste
Preheat oven to 375F. If you are using a whole chicken, remove the legs and breasts – you should have 4 pieces. Reserve the rest of the chicken for soup or another use. Season the skin with salt.

In a very large oven-proof pan, heat the olive oil or bacon fat. When very hot, add the chicken pieces skin-side down and cook over medium heat for about ten minutes. When chicken skin is crisp, remove the chicken pieces from the pan and place skin-side up on a platter and set aside. Set the pan aside – do not drain!

While the chicken is cooking, slice the onion into thin strings. Cut off the stalks of the fennel, but keep a few green fronds for garnish. Cut the fennel into very thin rings or slices, about the same size as the onion. Drain the jar of olives and slice the olives in half.

Heat the pan again and add the wine, stirring to scrap up any stuck-on bits of chicken. Add the onion, fennel and olives and stir to combine. Remove from heat. Place the chicken pieces skin-side up (so it stays crispy) on top of the bed of vegetables and place in the oven.

Cook for 30 minutes. Use a meat thermometer to check for doneness. To serve, make a bed of vegetables, place a chicken piece on top, and add a sprig of fennel frond. Season with salt and pepper.