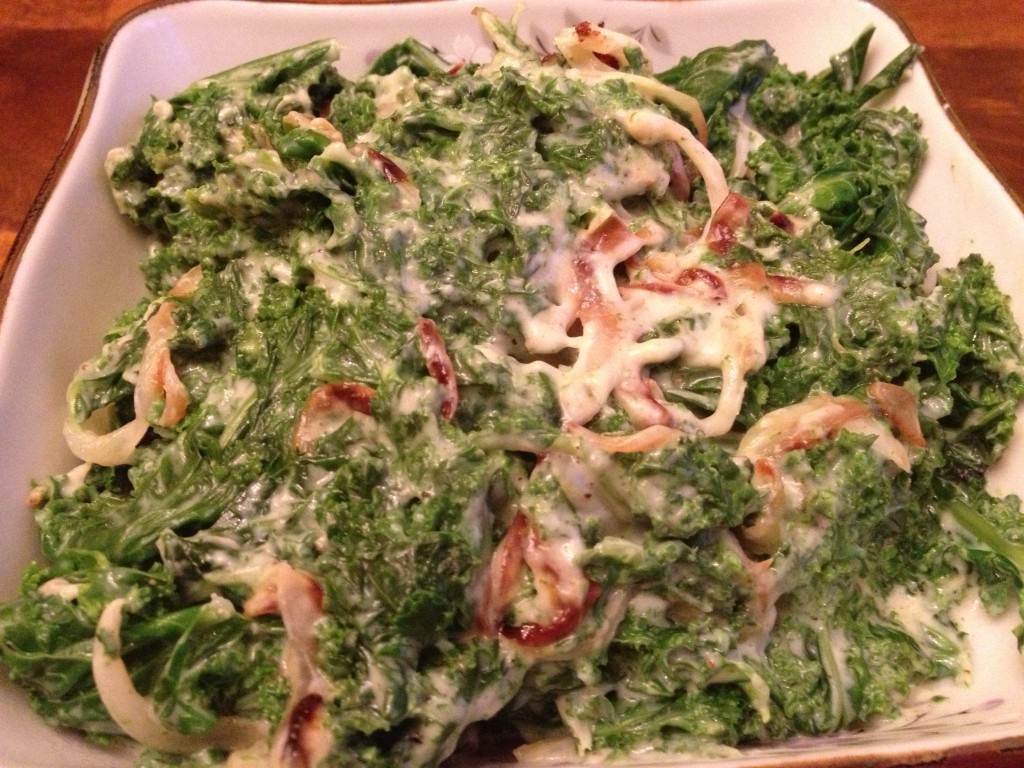 My favorite side dish in restaurants is creamed spinach. There's just something about it that I crave. And lucky for me, it's not hard to make at home. But spinach is a little fussy – it goes mushy in the fridge really quickly, so I don't have it on hand unless I'm cooking it that day. But kale on the other hand … that hearty veggie will hang out in your fridge for a few days without appreciable loss of texture or taste. So I had 2 bunches of curly kale hogging space in my fridge and decided to see if I could cream it. In short, yes I did! Creamed Kale for dinner!
Use whatever hearty green you have – kale, chard, or spinach. If you are using spinach, just wash and blanch it quickly. Kale and chard need more time in the pot to soften up, so plan accordingly. I made this with one part whole milk and one part half-and-half, but I think next time I can just use whole milk. If you like a richer flavor, use all half-and-half. As for the onion, I used just a regular brown onion. I think a sweet variety would be even better, so if you see Vidalias or Walla Wallas, pick one up! Also, I left it out, but you can certainly add a little (or a lot, your choice) grated parmesan cheese to garnish. Ready to check it out? Let's go!
Creamed Kale
(serves 2 as a side dish)
2 bunches kale, any kind, or chard, or spinach (see note above if using spinach)

1 onion

3 tablespoons butter, divided

1/2 cup whole milk

1/2 cup half-and-half

1 teaspoon corn starch

salt and pepper

1/8 teaspoon grated nutmeg
Set a large pot of water to boil. Prepare the kale: tear out the tough center stem, and tear the leaves into bite-sized pieces. Wash well.

Slice the onion as fine as possible – you want thin strings. In a large pan, cook the onions in 2 tablespoons of butter, stirring to make sure they don't burn.

Boil the kale for about 3 or 4 minutes. You don't want it too soft – a little chew is nice. Remove to an ice bath. When cool enough to handle, squeeze out as much water as possible from the kale.

When the onions are soft and browning, add the kale to the pan. In a bowl, whisk together the milk, half-and-half, and cornstarch. Pour over kale and onions and stir to incorporate. Turn the heat down to medium low and simmer for 3 minutes until thick and creamy. Season with salt, pepper, and nutmeg. Stir in last tablespoon of butter, then serve hot.