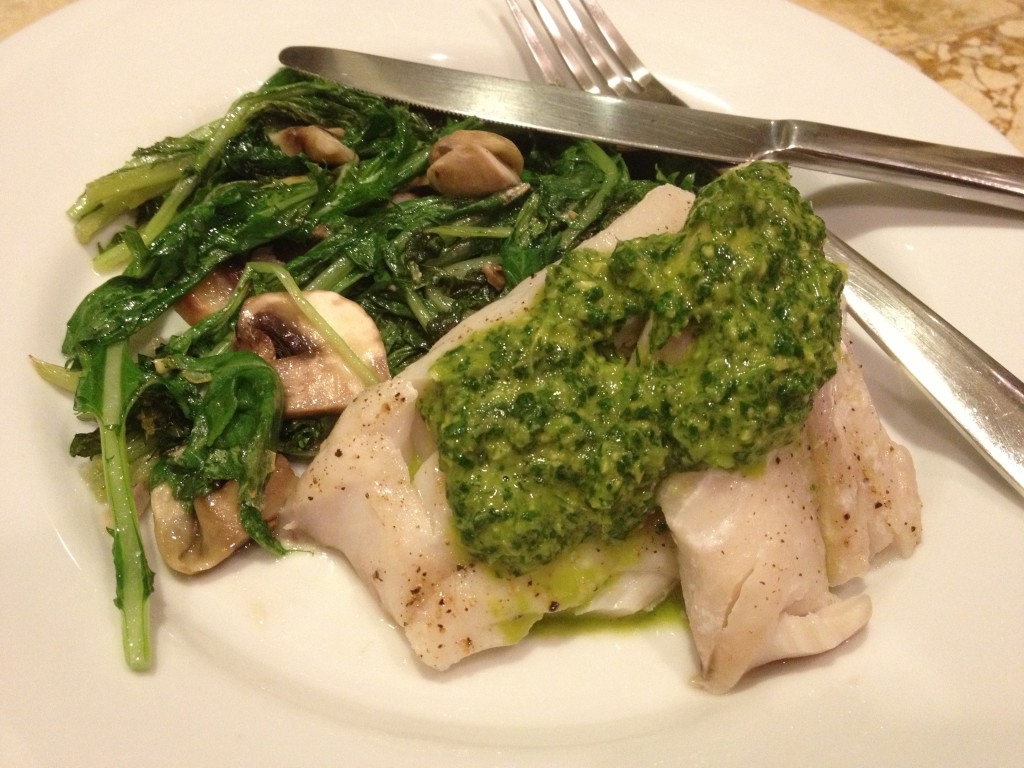 Monday I went to Costco and found some really beautiful fish. It was so yummy-looking, I couldn't pass it up, even though I didn't know what I was going to do with it. Google to the rescue! I went to a site called Epicurious.com that I've had luck with before, and found a recipe for halibut, but it said you could use any firm-fleshed white fish. Bingo! I changed a few things, and now I'm calling it Baked Fish with Cilantro Sauce!
Use whatever firm-fleshed white fish you have. I used rockfish, which is like red snapper. You can also use halibut, cod, and probably even tilapia. And if you're not really a fan of fish, I bet you could even get super crazy and make this with thin-sliced chicken breast (though you'll probably want to cook it a little longer.) The cilantro sauce is phenomenal! The original recipe called for shitake mushrooms. I didn't have any, so I used regular button mushrooms. But I really liked the mushroom flavor in the recipe and wished it was stronger. I would suggest a wild mushroom mix, or maybe portobello mushrooms if you can find them. Regular button mushrooms will work fine, but if you like mushrooms, maybe use more than the recipe calls for. And if you can find shitakes, by all means use them!
Full disclosure: My girls didn't really like this. I think this is maybe more of a grown-up dinner. So make this for you and your adult diners, and maybe throw some fish sticks in the oven for the kids. That meant I had leftovers. I ate them yesterday for breakfast … and finished the rest off at lunch! (Can you tell I really liked it?)
Baked Fish with Cilantro Sauce
1 bunch fresh cilantro, ends trimmed off (but use the stems too, not just the leaves!)

1 clove garlic

1-inch piece ginger, peeled

2 teaspoons sesame oil

3 tablespoons olive oil

1 small squirt Sriracha chili sauce, or other hot pepper sauce of choice

juice of one large lemon

1 1/2 pounds filets of rockfish, halibut, cod, or other firm white fish

1 pound green beans, trimmed

1 bunch mizuna or arugula

8 ounces mushrooms, sliced

3 cloves garlic, finely sliced

3 tablespoons olive oil

salt and pepper
Preheat oven to 450*F. Combine first 7 ingredients (through the lemon juice) in a food processor and blend until mostly smooth. If you'd like it a little smoother, you can add more olive oil. Taste and add salt if desired. Set the sauce aside.

Wash and trim the green beans, and cut into bite-sized pieces. Place in a covered bowl and add a tablespoon of water. Microwave for 2 minutes. You just want to help them along so they can bake in the oven and not still be crunchy when the fish is done.

In a large bowl, combine the mizuna or arugula, sliced mushrooms, sliced garlic,and green beans. Drizzle with 2 tablespoons of olive oil. Place in the bottom of a very large casserole dish (like one you would use for lasagna.) Place the fish filets on top, season with salt and pepper, and drizzle with the remaining tablespoon of olive oil.

Bake for 10-15 minutes, depending on the thickness of your fish filets. Divide fish and vegetables among 4 plates, and serve with the cilantro sauce.