Two for the price of one! That's what you get when you start this recipe in the crockpot. It's not very glamorous, but oh boy! does it smell and taste divine! A simple list of ingredients and a crockpot are all you need to make two delicious meals: Crockpot Curry Chicken and Curry Chicken Stew!
First you need a can of coconut milk or coconut cream. It needs to be a can, because the coconut milk "beverage" they put in cartons is all watery, and you need the high fat content of the canned stuff. Trader Joe's has both canned coconut milk and coconut cream, or you can try an Asian market or online. Next thing you need is curry. You can use curry paste; I just used curry powder and it was lovely. You'll need an 8-ounce package of mushrooms, any kind – I used regular button mushrooms, but shiitakes or creminis would be nice too, and give it a stronger flavor. And last is this beauty: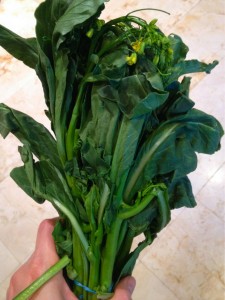 I buy it at the farmer's market from a Vietnamese lady who tells me it's called "Chinese broccoli". A little online research shows its real name is kai lan. Its leaves are like spinach, and its cooked stems have the consistency of asparagus. If you can't find it, use spinach instead…although the Chinese broccoli has a stronger, more bitter flavor.
I made this with whole chicken legs – skin, bones and all – but I think next time I'll try it with just boneless, skinless thighs. Chicken skin in the crockpot is not a nice thing – we actually peeled it off before we ate the Curry Chicken the first night because it just seemed kind of rubbery. But I think the skin and bones do add to the stock for the stew the next day, so it's up to you. Either way, you get two healthy, delicious meals out of one crockpot – you can't beat that!
3 pounds whole chicken legs

1 can of coconut cream, or use coconut milk (not low-fat)

3 tablespoons curry powder or curry paste of your choice

juice of 1 lemon or lime

1 tablespoon salt
In a large crockpot, set the time for 8 hours on low or 4-6 on high. Put the chicken legs on the bottom.

Mix together the coconut cream, curry, lemon juice and salt. Pour over the chicken and stir to combine.

Cook until a thermometer reads 180*F. Remove chicken legs from the pot and cover them with foil. Pour the coconut broth into a large pan and simmer for about 15 minutes. It will reduce a little. Serve chicken legs with coconut broth.
Now, at this point, I had 2 very large legs leftover and about a cup of coconut broth. I put them together in a Tupperware container. Then the next day, I made…
1 tablespoon butter, coconut oil or olive oil

8 ounces mushrooms, quartered

1 pound Chinese broccoli, cut into 2-inch pieces (or use fresh spinach)

2 large cooked chicken legs (or use 1 pound of chicken thighs)

leftover coconut broth – as much as you have

optional chicken broth

optional jasmine rice to serve
In a large pan, saute the mushrooms in 1 tablespoon butter, coconut oil, or olive oil. Stir, and after five minutes, add the Chinese broccoli and cover.

While the mushrooms are cooking, prepare the chicken: peel off the skin and any subcutaneous fat you find from the cooked chicken legs. Remove the meat from the bones and roughly chop.

Add the chopped chicken and remaining coconut broth to the mushrooms and Chinese broccoli. If you want it to be soupier, add some chicken broth. Cook until the chicken is hot, about ten minutes.
This would be lovely with some steamed jasmine rice! I ate this for lunch, and liked it so much I ate it again for breakfast.