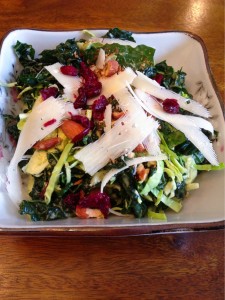 Now you all know I love a good salad. I will eat a salad for breakfast – in fact, I'm finishing this big bowl of Brussels Sprouts and Kale Salad right now, with my morning coffee! Raw Brussels sprouts—for breakfast?! Yes indeed!
I found this recipe on the Bon Appetit website, which I tweaked to my liking. The best thing about this salad, aside from the fact that it tastes good, is that it is so hearty. I made it last night, had some for dinner, and it's still good this morning! But because it's so sturdy, you'll want to keep the nuts, fruit, and cheese separate until you're ready to eat it. You can sub any dried fruit you like for the cranberries: cherries, blueberries, golden raisins, and diced dried apricot would be delicious too. And if you don't have toasted almonds, substitute pecans, walnuts, or hazelnuts. Check it out, and report back with your chosen combination of flavors!
Brussels Sprouts and Kale Salad
1 bunch Tuscan kale (also called dinosaur or lacinato kale)

1/2 pound large Brussels sprouts

1 shallot (or 1/4 red onion)

juice of one large lemon

1/3 cup olive oil

1/2 teaspoon honey

to serve: almonds, dried cranberries, and Parmesan cheese

salt and pepper
Prepare kale: Strip the leaf off the thick stem, then soak the leaves in cold water to remove any dirt.

While the kale is soaking, prepare the Brussels sprouts: cut off the stem end and any brown or wilted leaves. Slice in half lengthwise, and lay down flat on the cut side. Thinly slice each sprout half to create shreds. Place shredded sprouts in a very large bowl.

Dry the kale. Grab a handful and sort of wad it up, then run your knife through the kale to shred it. Add to the sprouts in the bowl.

In a small food processor, blend together the shallot, lemon juice, olive oil, and honey.

Pour over the kale and mix with your hands. I mean get in there! Massage the dressing into the kale, squeezing it to soften everything up and get the dressing into all the sprouts and kale.

To serve: Dish salad into a bowl. Take a handful of almonds and crush with a knife or in a mortar and pestle – just crack them lightly, you don't need to pulverize them. Add the cracked nuts and cranberries to the salad, then shred some Parmesan to go on top. I shaved the block of Parmesan with my vegetable peeler, but you don't have to do that if you don't want. Season with salt and pepper and serve.