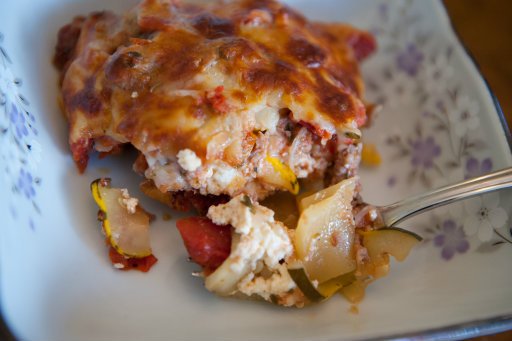 This recipe came about, as many do, in my house: I start with an ingredient and brainstorm what in the world I'm going to do with it. I had a bag of summer squash from the farmer's market – it was so inexpensive, I couldn't pass it up. But aside from making zucchini bread, I couldn't think of how to use it. That was when I stumbled upon a recipe for Homemade Ricotta, and it came to me: Zucchini Lasagna!
The zucchini stands in for traditional noodles in this recipe, so if you are following a low-carb diet, or if you are avoiding gluten, you're in luck! If you are making ricotta, drain and squeeze it to keep any extra liquid out of the casserole. Nobody likes a soggy lasagna! Feel free to saute and add other veggies or herbs to the lasagna, too – baby spinach, bell peppers, black olives, or fresh basil would all be lovely!
This is a small casserole, so we ate it with a big salad for dinner. You can easily double or quadruple this recipe to serve more people. Hope you like it!
Zucchini Lasagna
1 or 2 zucchinis or other summer squash, about 3/4 pound

cooking spray

1/2 pound sausage

1/2 small onion

1 clove garlic

1 can diced tomatoes, drained (I used fire-roasted canned tomatoes)

1/2 teaspoon Italian herbs, or oregano

salt and pepper

1 cup Homemade Ricotta, or store-bought

1 cup shredded mozzarella cheese
Preheat oven to 400*F. Line a baking sheet with aluminum foil and spray lightly with cooking spray. Chop the zucchini into thin coins – about 1/8″-thick. Lay out on the baking sheet and bake for about 8 minutes. They don't need to be cooked through at all – you just want to dry them out a little bit. Remember, no one likes a soggy lasagna!

While the zucchini is drying out, dice the onion, and mince the clove of garlic. In a large pan, brown the sausage with the onion and garlic. Drain any fat that accumulates. Add in the drained tomatoes, oregano, and salt and pepper, and heat through.

In a casserole dish, spray a little cooking spray so nothing sticks. Layer half the zucchini slices to cover the bottom of the casserole dish. Spread half the ricotta over the zucchini, then spread half the sausage mixture over the ricotta. Repeat with the rest of the zucchini, then ricotta, then sausage. Cover with the shredded mozzarella.

Cover with a lid or aluminum foil, and bake for 20 minutes. Remove lid and bake for another ten minutes, until the cheese is golden and melty.