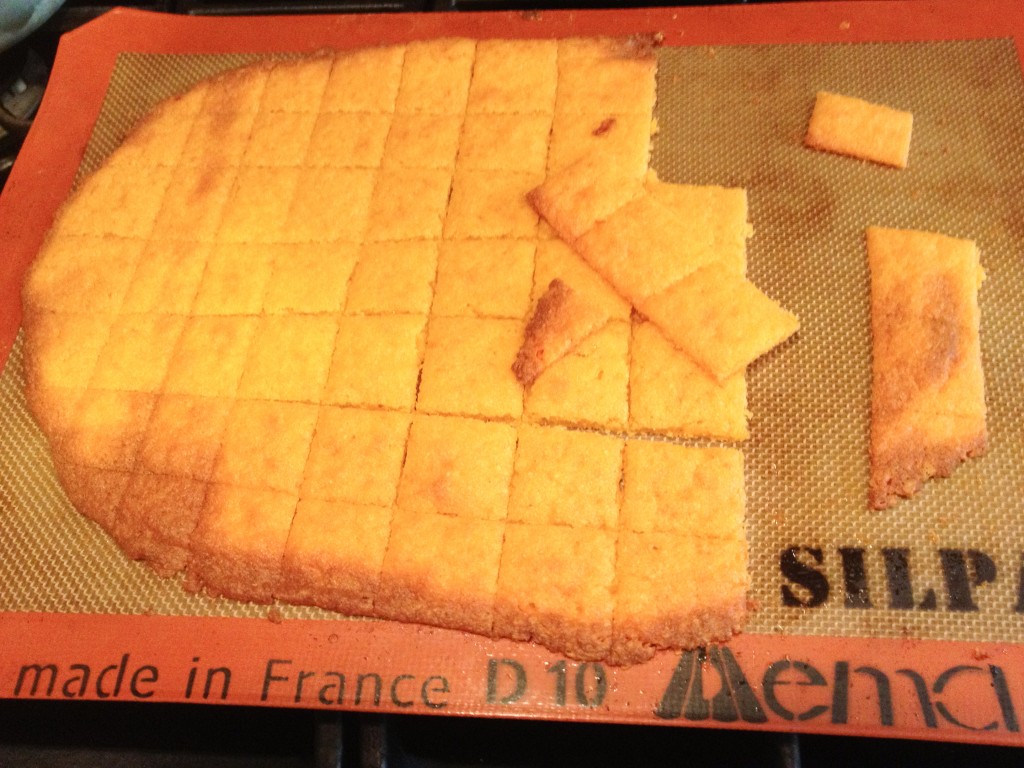 So, you fell in love with coconut milk too, right? It's your end-all, be-all, new favorite thing? That's okay if it's not. But if you have made it, or plan to, you will be left with a cheesecloth-wrapped ball of pulp. Now, someone who didn't know better might just chuck that in the trash. But not us! We are going to use the pulp to make Homemade Coconut Flour and, with that flour, we're going to make Homemade Cheezits!
First, the tools you will need: You'll need a baking sheet, parchment paper, and a food processor or blender. If you have a Silpat silicone baking liner, now is the time to use it. And you're in luck: the ingredients are already in your house, right now! Once you make (or purchase) coconut flour, you can whip these crackers up in minutes. The good news is that they have no preservatives, artificial colors or flavors, or any unpronounceable chemicals – hooray! They come out of the oven the perfect blend of crispy and chewy, ready for snacking. The bad news is, because they lack any of that lab-created stuff, they don't stay crispy. But that is easily remedied by a quick pass through a toaster oven. Just a few minutes is enough to make these

crackers

crunchy again.
Ready to make some homemade, preservative-free snacks your family will love? Let's go!
Homemade Coconut Flour
Pulp from 2 batches of coconut milk
Preheat oven to 250 F. Cover a large baking sheet with parchment paper or a Silpat mat. Spread out the coconut pulp, breaking up any lumps. Toast the pulp until completely dry and powdery. You really need to make sure all the moisture is removed. This can take anywhere from one to two hours. Stir occasionally to make sure the lumps are broken up and there are no

hot-spots

, and don't let it burn!
When the pulp is very dry, let it cool in the oven for another hour or so. Transfer to a blender or food processor and blend for 5 minutes. Depending on how powerful your blender is, you can get it pretty fine. My food processor did a decent job, but the

flour

was not silky fine in texture. That's okay! Get it as powdery in texture as your tools allow.
Homemade Cheezits
1/2 cup coconut flour

1 egg

2 tablespoons butter, softened

pinch

salt

1 1/2 cups shredded cheese (I used cheddar)
Preheat the oven to 400F. In a food processor, blend all the ingredients together. You will end up with a moist ball of dough.

Line a baking sheet with parchment paper or Silpat liner. Plop the ball of dough down on the liner, and cover with a piece of parchment paper. Roll out the dough very thinly, to about 1/8″ thickness. Try to make it even thickness all the way across – you can see my edges were a little thinner, and they got crispier than in the middle. That's fine, but you don't want a huge variation in thickness. Remove top sheet of parchment paper and bake for 8-10 minutes until starting to color.

Remove from oven and score with a sharp knife. You don't need to go all the way through, because you don't want to cut your liner or parchment paper. Bake again for another 8-10 minutes until golden brown and starting to get crispy at the edges.

When it's cool enough to touch, cut all the way through the crackers, or just use your hands to break them at the perforations. When cool, store crackers in sealed container. To crisp, put them on a baking sheet in the toaster oven or regular oven for five minutes.
I think next time I make these, I'll add a little paprika or garlic powder. New flavor combinations are exciting! So - what store-bought snacks do you like to make at home?